Pricing
(All prices exclude GST)
To install ContactsLaw you will need:
Licence bundle
Price:
$5,000 per concurrent user
For example, a firm with 10 team members would need 10 five year licences.
Term:
5 years from date of purchase
Additional licences may be purchased during the term for $5,000 pro-rated for the unexpired portion thereof.
Included during the term:
All software releases (upgrades)
Telephone support during office hours (first 3 months only, charged at current rates thereafter)
E-mail support for faults and upgrades
Remote access support for faults and upgrades where we deem it necessary
On-site support if required to rectify faults not caused by users
Electronic bug reporting and user feature requests
Upon expiration of the term:
Continue to use the software, unsupported and with no further upgrades, free of charge in perpetuity; or
Renew your licence at current market rates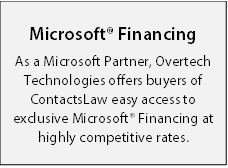 Implementation and training
Price:
15% of the cost of the licence bundle
Licence renewals are not subject to this charge.
Includes:
Training your staff to use ContactsLaw – up to 20 hours throughout the term
Deploying the software at your premises
Installing and configuring workstations and your application server
Preparing the system for use
Data migration
Data migration is subject to open access¹ to existing software. Charges for transfers will be quoted on a case-by-case basis.
Migrating from FilePro is free.
Hardware
We can supply an application server (including all required software) on which to run ContactsLaw in the event that you do not meet the requirements and do not intend to purchase your own application server for this purpose.
We will prepare a quote based on the recommended hardware requirements for ContactsLaw.
Telephone integration
Use of the telephone integration features in ContactsLaw requires a compatible telephone system. Refer to ContactsLaw's Technical Specifications or our website for more information.
Additional support
For support beyond the first 3 months of the licence term:
(Rates effective from September 2017)
¹ Open access is read-only access to either: an SQL database, individual data files with an appropriate data dictionary or an Application Programming Interface (API) supplied by the vendor. If data is encrypted, decryption keys must be provided.