Deployment & Implementation
Deployment
ContactsLaw is deployed to your workstations via our DDM system. Built on Microsoft ClickOnce technology, it provides installation over the web, software updates and licence verification. The built-in management utility allows you to personalise Contactslaw installation packages and simultaneously release updates to all workstations on the network.
Standard deployments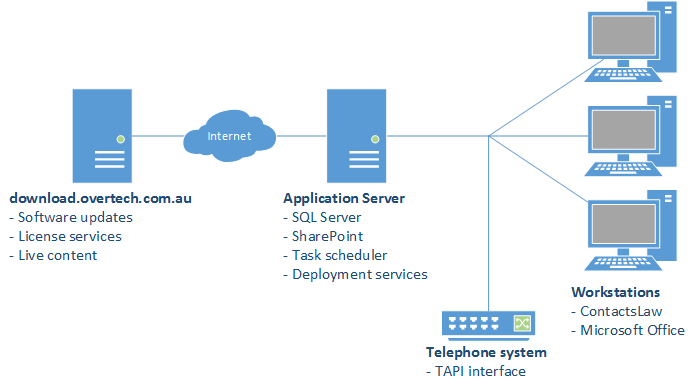 Most users access ContactsLaw through an on-premises application server. This method of deployment provides high performance and instantaneous access to documents, with a fixed upfront cost.
Overtech can provide specifications and recommendations for a server that will meet your requirements. If existing hardware is available, we will identify any necessary upgrades and additional software required. We will install and configure ContactsLaw on your application server, however firms shall be responsible for backups and ongoing maintenance of their own hardware.
Hosted deployment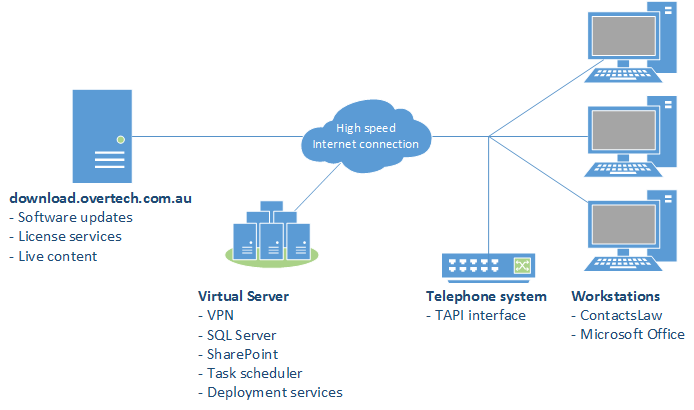 Alternatively, users can connect to a virtual server (hosted in the cloud) over a secure VPN. This method of deployment sacrifices some performance and responsiveness, but requires no on-premises hardware and allows access from anywhere in the world. Hosting is typically charged on a monthly basis, which includes backups. A high speed fibre internet connection is strongly recommended with this option.
Overtech does not provide cloud hosting services, but can advise on suitable plans with other providers. We will install and configure ContactsLaw on your virtual server and liaise with your provider.
Implementation
Initial setup
Before you begin using ContactsLaw, Overtech will load best-practice defaults and oversee the process of configuring and personalising the system to suit the needs of your practice. The time taken to perform this task will depend on the size of your firm and the nature of your current business processes.
Included (bundled) data
We will include the following data with your installation of ContactsLaw:
Contacts:

major courts and tribunals in your state/territory;
major Australian banks and financial institutions;
an extensive set of legal industry contacts, including Western Australian law firms, partners and lawyers.

Document templates:

a standard set of templates required for core functionality in ContactsLaw – e.g. correspondence, labels, bills;
a selection of standard Court form templates;
a sample workgroup with further templates to demonstrate the use of ContactsLaw's document building and workgroup fields.

Activities and workflows:

the full set of activities available in Contactslaw, with workflows preconfigured according to industry best practices.
Data transfer
We will quote on the cost of transferring data from your existing software package. The data that is transferred will ultimately depend on the quality (i.e. organisation) of your existing data, the amount of data requiring transfer and whether your existing system uses a proprietary database format.
Contacts can be easily imported from Microsoft Outlook, Excel spreadsheets and SQL databases. In addition, we have experience in migrating data from the following packages:
FilePro
Law Ledger
Locus
MYOB
Although each deployment is unique, we generally recommend:
You bill as many files as possible before the changeover;
Changeover occurs on the first day of the month/quarter/financial-year;
General and trust accounts (including debtors and creditors) should be reconciled as at the changeover date.