ContactsLaw is a revolutionary legal practice management software
Designed by practising Western Australian lawyers, ContactsLaw takes a whole-of-life approach, facilitating all day-to-day operations in a law firm.
It replaces traditional CRM, document and matter management, accounting and billing systems, offering a single, centralised solution.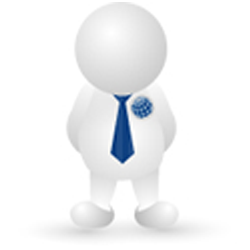 With a broad scope and tightly integrated features, underpinned by a powerful relational database, ContactsLaw helps you capture more information with less effort, and harness it in new and productive ways.
ContactsLaw doesn't just help you run your business; it gives you the tools and intelligence to:
make key decisions;
increase productivity;
reduce costs and disputes;
deliver a superior level of service, and;
add value to your products.
ContactsLaw offers a high degree of customisation, ensuring that your business drives the way ContactsLaw works – and not the other way around!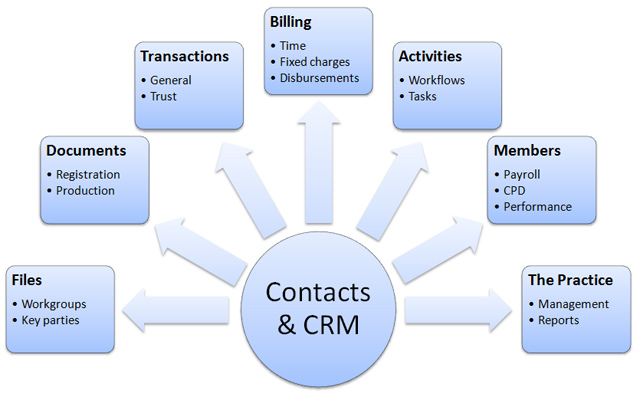 At the heart of
ContactsLaw
is the contact, bringing together everything useful about a business or natural person; spanning identity, communication, marketing and financial details, even relationships to other contacts.
Whether it's a client, prospect, creditor, court or even another law firm, ContactsLaw rewards you for capturing their details. Once recorded, a contact's details are available for building documents, making telephone calls, receipting money – in fact, any imaginable activity; you simply add the contact and ContactsLaw does the rest.
With its powerful search features, finding a contact is easy. You can search against any piece of information you have, even if you're not sure whether it belongs to the person or their organisation.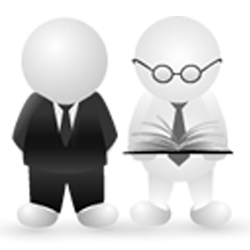 A contact becomes a client when you open their first file. You can choose to operate wholly-electronic files, storing all the information needed to effectively manage the matter.
You add contacts to a file to model the key players; the clients, liaison, other parties, representatives and other contacts you deal with on a regular basis.
ContactsLaw helps you build an accurate, detailed cost estimate when you open a new file.
Whenever you visit a file, you're kept up to date with a comprehensive summary of your financial position.
ContactsLaw
leverages Microsoft
®
SharePoint to provide a robust, reliable document management solution.
By capturing every document that comes into your firm and cataloguing them against files and contacts, you can access them from anywhere and share them with anyone. Integration with Microsoft® Outlook liberate emails from your members' inboxes and move them onto the file where they belong.
ContactsLaw draws upon files and contacts when you build documents. Powerful, easy to use templating features eliminates wasteful repetition, dramatically reduce authoring time and bring quality and consistency to your practice.
Through
tasks
and
workflows
,
ContactsLaw
allows staff to collaborate on documents – or any other activity – closely modelling your firm's business processes.
Each activity is broken down into steps according to sequence or responsibility. Members are automatically sent tasks to complete each step of the workflow. Tasks can also be sent manually, encouraging communication and division of labour.
From their task list, members can see exactly what work needs to be completed, the contacts and files involved and how it should be prioritised. Double-click a task, and ContactsLaw will take you straight into the action.
ContactsLaw
automatically
journals
the time, contacts, files and documents involved in each activity and lets you make notes as you work. When you finish the activity,
ContactsLaw
knows how long it took and charges the cost to the file.
With a compatible digital telephone system, ContactsLaw even journals your telephone calls. Enhanced caller ID announces incoming calls – saving time and impressing your client. With automatic dialling and on-screen controls, you never have to touch your telephone keypad!
ContactsLaw drafts bills – drawing upon time records, fixed charges and disbursements. All you do is make appropriate adjustments and click "finalise". Naturally, ContactsLaw takes care of any general and trust ledger transactions for you.
ContactsLaw's innovative fixed-price billing allows you to define products and assign activities to them, billing according to agreed price or against a statutory scale. Tracking your usage over time, you can convert your time-costed services to fixed-price3 products and ensure that your pricing policies are profitable and competitive.
ContactsLaw
's member-centric
portal
places members' tasks, activities and files at their fingertips.
ContactsLaw encourages transparency by giving staff access to their payroll records and permits them to monitor their performance. You have all the tools you need to effectively manage yourself and monitor the staff you supervise.
Workgroups
enable specialisation; shaping the behaviour of files in specific areas of law. You can assign to a workgroup particular types of documents, products and fields for capturing information.
Management and reporting features at a workgroup level empower team members to take management responsibility for specific areas of your practice.
Drawing upon the wealth of information provided by contacts, files, activities, bills and workgroups,
ContactsLaw
's
Client Relationship Management
features help drive marketing campaigns and generate new business.
With these tools, you can identify your most valuable clients, profile prospective clients or target particular industry groups and geographical locations.
Combined with Contactslaw's document-building features, you can target contact lists with mass-mailouts – or export the data to third-party mail houses.
ContactsLaw
provides all the
accounting
features you need to run your business – enhanced with the power of contacts. Feature-rich general ledger and regulatory-compliant
trust accounting
will save time, strengthen integrity and model the way you do.
Deposit and bulk payment activities simplify your banking and better align your records with your bank statement. Reconciliations ensure the integrity of your transactions and safeguard against change. Extensive GST reports help you prepare your BAS.
ContactsLaw is also a small business payroll package, helping you pay wages and superannuation, and record leave.
Features to operate subsidiary companies bring all the benefits of ContactsLaw to other entities you manage.
ContactsLaw is easy to use: if you can surf the internet and send an email, you can use ContactsLaw.
ContactsLaw is not for dinosaurs: if you still use shorthand, get your secretary to make your calls for you or prefer Filofaxes to computers, read no further!
ContactsLaw never asks more than once for the same information: Once you create a Contact, you can write a letter, send an email, making a telephone call, requisition a cheque, order a company search or create a document of any kind without typing the contact's details again. If you integrate your telephone system – and we strongly suggest that you do – you won't even have to use your telephone keypad again. Central to ContactsLaw is the concept of the Contact. You only ever enter a contact's details once, and then access them infinitely, linking them to files, documents, transactions and other terms within the system. You can then search all of your records from one place. ContactsLaw can make the paperless office a reality.
No more clutter: ContactsLaw presents the information that you need elegantly and accurately. No myriads of tabs and drilldowns; no confusing maintenance boxes.
Transparency and accountability: every Member has instant access to information he or she needs to manage files and get the job done. Every Member is responsible for the files allocated to him or her.
Turnkey solutions: we can supply, maintain, integrate and take responsibility for your software, hardware, telephone and internet requirements.
Building on the latest Microsoft development tools, ContactsLaw is totally new in concept and design. It is built on the .Net framework 4.5 and fully integrates with the Microsoft suite of business products including Office, SharePoint and SQL Server. It is a client/server system that runs on current versions of Windows.
The latest version of the product is fully compatible with:
Windows 10
Office 2016
SharePoint 2013
Windows Server 2012 R2
SQL Server 2014
See technical specifications for more information about supported Microsoft products.